We take the pain out of NMEA® product testing
, demonstrating and ECDIS training
The NMEA 0183 / IEC 61162 protocol standard defines specific sentence formats for exchanging data between various nautical instruments. The information transmitted via this protocol may include information such as position, speed, depth, wind direction, etc.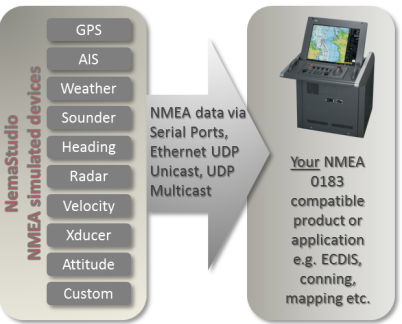 cClick image for video
As a producer of NMEA 0183 / IEC 61162 compatible hard and/or software you know how hard it can be to set up a reliable and convenient testing environment to evaluate and test your and your competitors products.
What you need are tools you can simply install at your Microsoft Windows desktop PC or laptop generating the NMEA sentences you require, thereby considerably reducing the need for expensive field tests. Our simulation products will absolutely save you a lot of time and money.
Sailsoft delivers these sophisticated tools to both industry professionals and skilled amateurs against a really fair license price.
Our products dynamically simulate AIS targets, Radar targets, GPS and many other nautical instruments and generate the appropriate NMEA sentences, both multiplexed or in parallel, over serial and Ethernet ports, ready to feed straight into your application, navigation device or ECDIS.
A few good reasons to download a free trial of our NMEA simulation software today:

Using our products:
* Will save costs because there is no need to invest in real NMEA devices in order to test and certify your products
* Will let you test and evaluate your products conveniently in your own lab or office, no need to drive or sail out to test grounds
* Will let you comfortably demonstrate your products at fairs and other events without the hassle of installing, connecting and calibrating real NMEA related instruments
* Will give you full control over the dynamics of targets and virtual instruments so you can reproduce a challenging test environment as many times you like
* Will enable you to easily realize a simulated but realistic looking scenario when connected to ECDIS for in-house training or other purposes
Customers already benefitting

Organizations that are already using our products:
Actia, Actisense, Alewijnse Marine B.V, Azimuth Inc, Bennex, Boeing, Canadian Coast Guard, Channelcoast Marine, Digital Yacht Ltd, ETNA, ESRI, Finnish Defense Forces, Flextronics, Flight Technology, FLIR, Forward Slope Inc, Garmin, Gdynia Maritime University, Gistic Research Inc, Glafcos Marine, Honeywell, ICAN Marine, Intel, Interschalt Maritime Systems AG, Intermarine SA, Jeppesen, Johnson Outdoors Marine Electronics Inc, KNRM, Kongsberg Maritime, L-3 Nautronix, Lockheed Martin, ManTech Sensor Technologies Inc, MaxSea, Mercury Marine, Microsoft, National Coastwatch Institution, Navicomm Marine Systems, Navielektro, Navionics S.p.a, NavTronics, Netherlands Navy, NCSA NATO, Netwave Systems, Nobeltec, Nomatronics, Northrop Grumman, O.M. Rønning Skipselektronikk, Offshore Marine Electronics, Olectric Systems Pty Ltd, Onyx Marine Automation, Pentagon Electric ApS, Petrobras, Radio Holland, RayMarine, RLNI, Saab Systems, Sagem, Samos Steamship, SciSys Ltd, Seagull AS, SeaTech, Simrad, Southern Electronics, Sperry Marine, Star Dynamics, TackTick, TatukGIS Sp.z o.o, Technology Systems Inc, Thales Group, Thrane & Thrane A/S, Ultra Avalon, USGC Navigation Center, Wayfarer Marine, Wired Boat and more....